Just like the original Armed with Wings, Rearmed will open in cinematic the same way. I'm recreating the epic moment where Vandheer executes the Lone Warrior. I'm injecting the more action, drama, dialog, emotion and expression.
As you'd expect from me, the animation is done all in Adobe Flash. Everything is vectored and very sleek. I'll explain some of my progress:
Sketch
Beginning with a storyboard, I draw up each shot that will occur and spread them out along the timeline.
Lone Warrior looking towards camera
Vandheer attacking
Lone Warrior battling Vandheer
Character Art
I usually create the character art before the backgrounds. My sketchs are usually detailed enough to use as a foundation. I lighten the opacity of the sketch and lock it to a layer, at which point I draw the actual art on top. Using a pen I create the character outline, which I then fill with either solid or gradient color.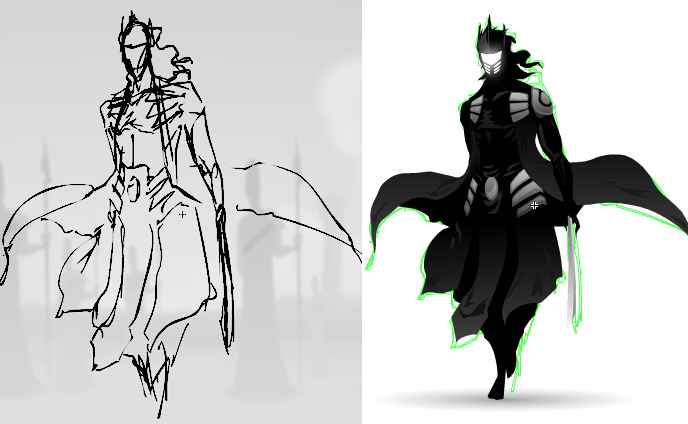 Notice the gradient colors. I tent to use gradients when a shapes needs to be more distinctive. Clothes usually have gradients applied to them. Exposed body is always black, except for the face (face has subtle gradient). The extra detail like cloth folds, body and chest lighting always have a gradient applied.
Totally done in flash. The background elements have a blur filter applied. Notice that Vandheer is darker than any other element, that's to make him readable and focused.
Here is some more artwork from the cinematics:

The Lone Warrior defeated and seized.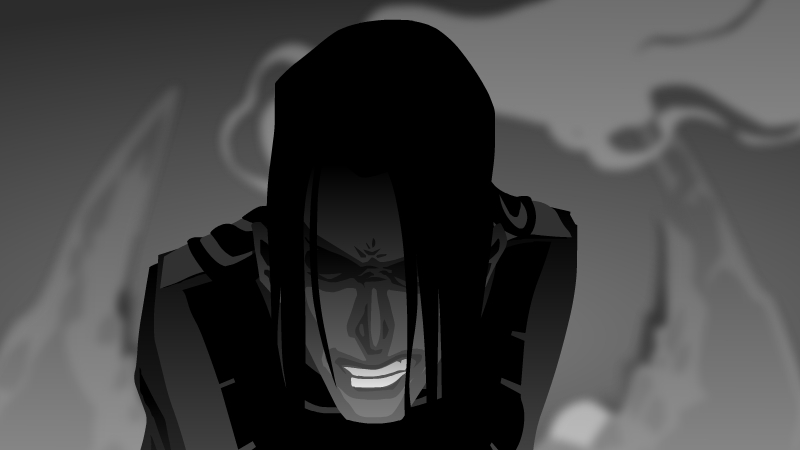 The Lone Warrior's face, up close and enraged.
The Lone Warrior, preparing for another battle.
So far so good if I dare say so myself. Can't wait to get into the animation. It will flow in a similar fashion to the Armed with Wings 3 cinematics.
Revisiting this critical moment in AwW is dope. Perhaps I should do an Armed with Wings cartoon?!